Guides
Submitting Your Item
Creating Your Item
Creating Your Item - Template Editor
Creating Your Item - 3D Modelers (1)
Creating Your Item - 3D Modelers (2)
Creating Your Item - 3D Modelers (3)
Creating Your Item - 3D Modelers (4)
Creating Your Item - Custom Shader
Creating Your Item - Blend Shape
Item Thumbnail Guide
Submitting Your Item
Submission Guidelines
Managing Your Item
Getting Paid
Promotional Contents
Tax Info for Creators
Submitting Your Item
Once you're happy with your item, you can submit it to ZEPETO Studio to be published. Items are published to ZEPETO.
Before people can use your item, it'll be reviewed to make sure it follows:
This screening process can take up to two weeks (excluding weekends and holidays).
Submitting Items
To submit an item:
In ZEPETO Studio, Click Upload button in the toolbar.
Follow the on-screen instructions.
If your item is promotional, you'll need to let us know when you upload it to ZEPETO Studio. Please refer to Items that Promote Brands or Products.
Preview your item in ZEPETO app
You can preview the item you are preparing to upload through the ZEPETO app.
Preview via push notification
Once you click the Test on your phone button in the upload step, you will receive a Push notification of the ZEPETO app for the ZEPETO account logged into ZEPETO Studio.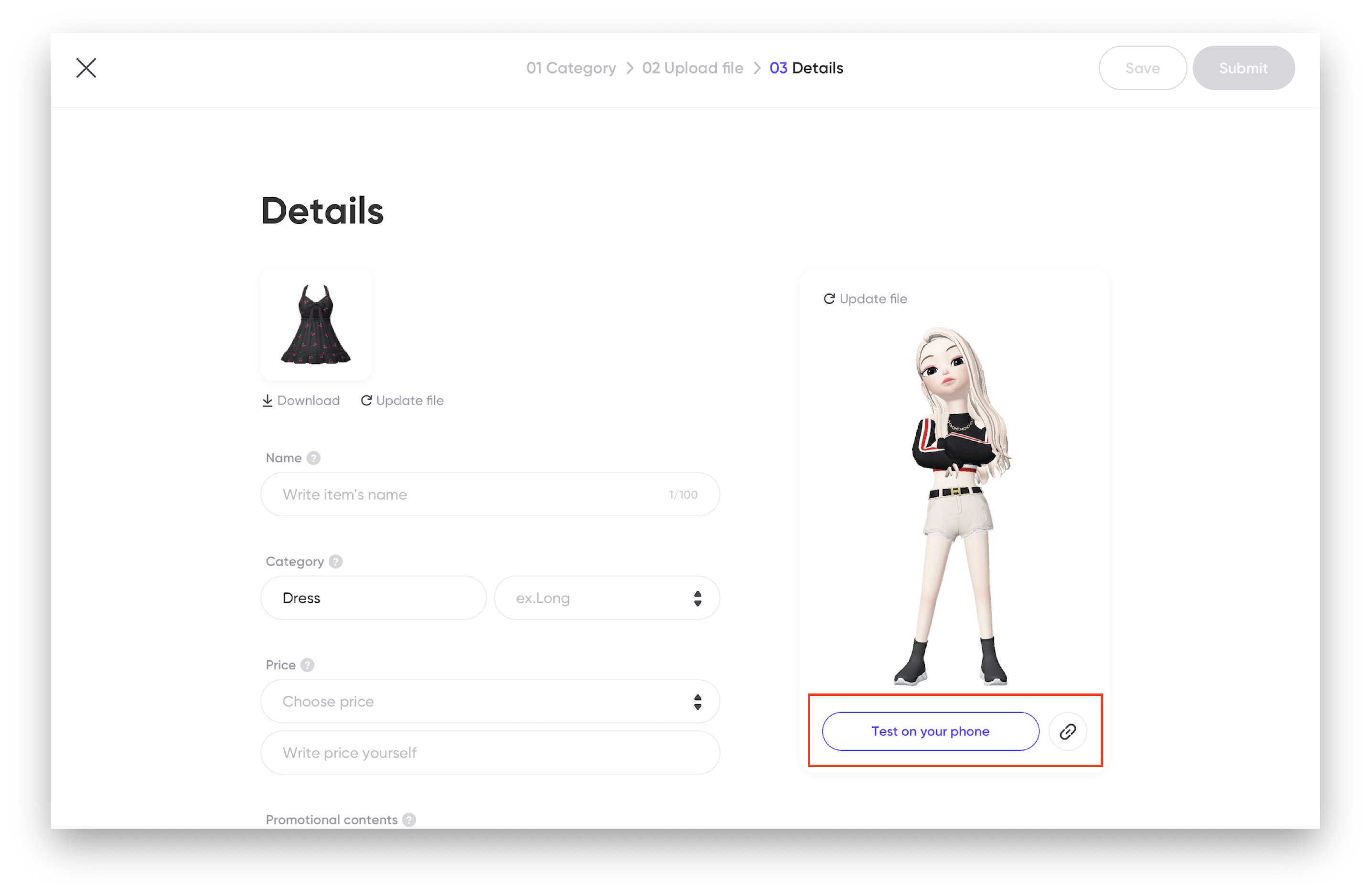 If you receive a push notification, tap it in the notification center of your phone to enter the preview screen of the ZEPETO app. Or, for ZEPETO users who have push notifications turned off, open the ZEPETO app and tap the message of ZEPETO Studio on the notification list to enter the preview screen.
On the preview screen of the ZEPETO app, you can see your ZEPETO wearing the item you are preparing to upload. Use the Motion change feature to carefully check your items for any problems.
Preview via URL
If the ZEPETO app is installed on your phone, you will be directed to the preview screen of the ZEPETO app when you click the Preview link on your phone.
Scheduling and targeting
All Items are available to the public once they've been reviewed. To control the publication date and time of your item and the length of time it's available for, you can add scheduling details when you upload it.
To help your item reach the right audience, you can add tags to it during the upload process.
Next step
See how to check item status through item management feature on ZEPETO Studio.