Guides
Item Thumbnail Guide
Creating Your Item
Creating Your Item - Template Editor
Creating Your Item - 3D Modelers (1)
Creating Your Item - 3D Modelers (2)
Creating Your Item - 3D Modelers (3)
Creating Your Item - 3D Modelers (4)
Creating Your Item - Custom Shader
Creating Your Item - Blend Shape
Item Thumbnail Guide
Submitting Your Item
Submission Guidelines
Managing Your Item
Getting Paid
Promotional Contents
Tax Info for Creators
Item Thumbnail Guide
The item thumbnail is an image that allows ZEPETO users to judge the attractiveness of the item before purchasing it. You can use thumbnail images that are automatically created when uploading items in ZEPETO Studio, or customize thumbnail images of your own.
Default Thumbnail Image
Upload the item resource from the category page of ZEPETO Studio.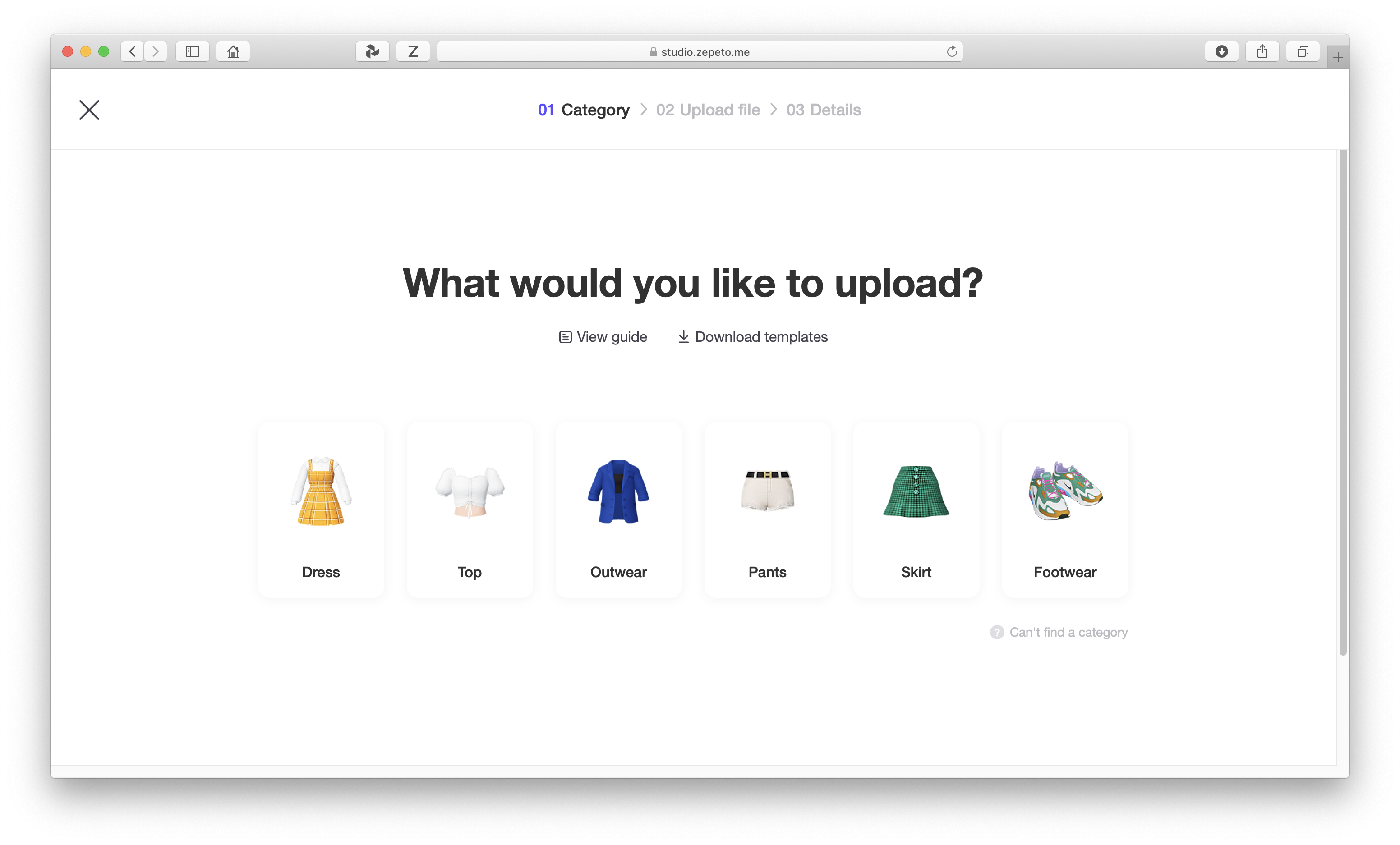 When the item resource upload is complete, check the thumbnail image displayed at the top of the item details screen.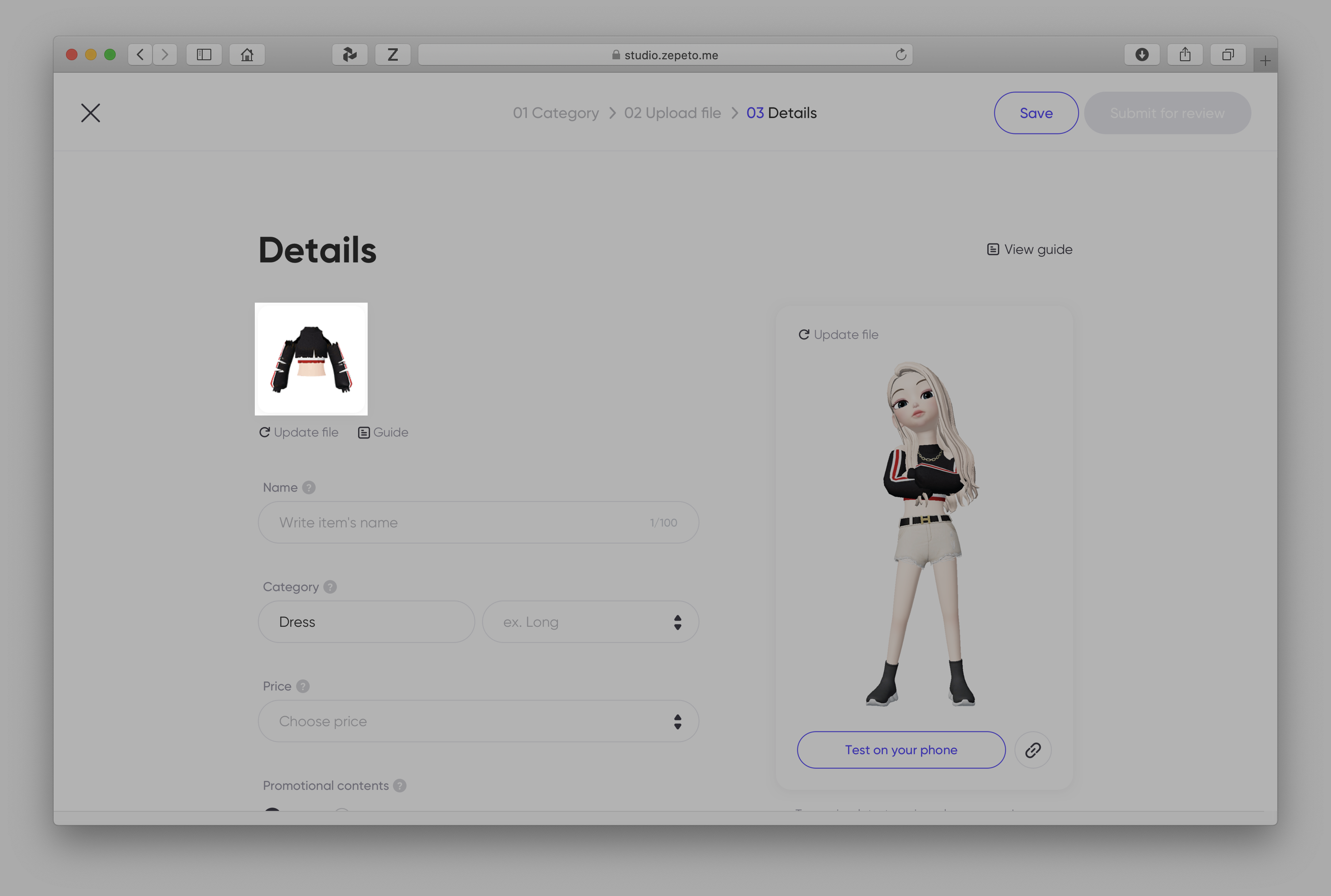 Customizing Default Thumbnail Image
Download the image by overlaying the mouse on the thumbnail field displayed at the top of the item details screen.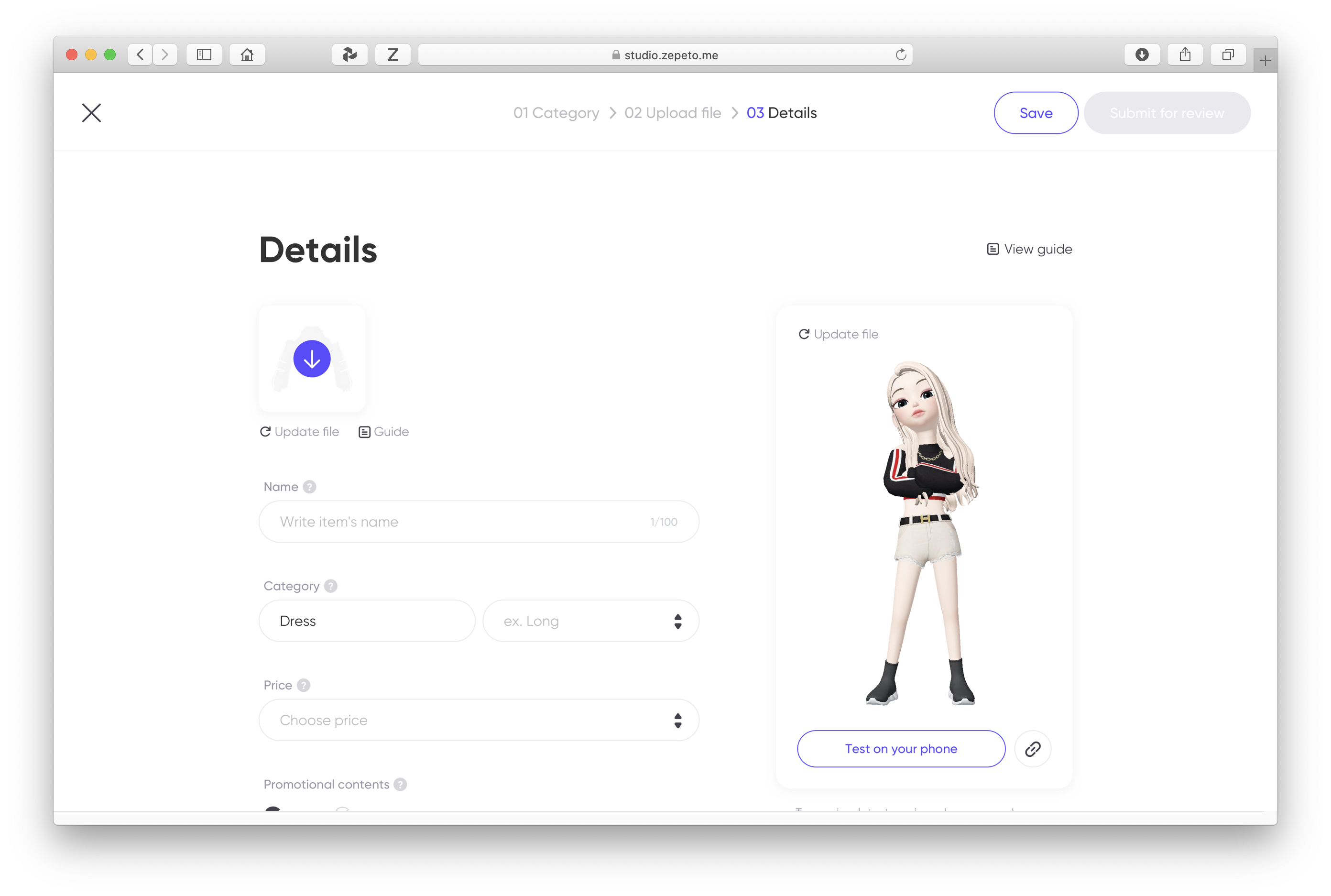 Modify the downloaded thumbnail image that follows Recommendations for Customized Thumbnail Images below.
When the modification is completed, click the Update file button at the bottom of the thumbnail field to upload the modified thumbnail image.
Save item changes.
Recommendations for Customized Thumbnail Images
Please follow the recommendations below when creating and uploading custom thumbnail images.
144x144 pt resolution
PNG image format only
File under 1MB
1:1 square aspect ratio
Thumbnail Guide
Place the item not to meet the margin of 144x144pt.

Correction in Default Thumbnail Graphic
Correct any graphic errors in the default thumbnail image.

DO NOT!
The following customized thumbnail images may be rejected during the review process.

Thumbnail image that doesn't match 144pt x 144pt size
Item image too small for the entire canvas size
Item image contents not expressed enough by cutting some parts off(exception: in case of shoes like long boots, some part may be cut off)
Graphic added other than the item
Not transparent Item background
Image too different from the generated default thumbnail
Expressing content totally different from the original item
For more information related to the item thumbnail screening criteria, please refer to Submission guidelines.